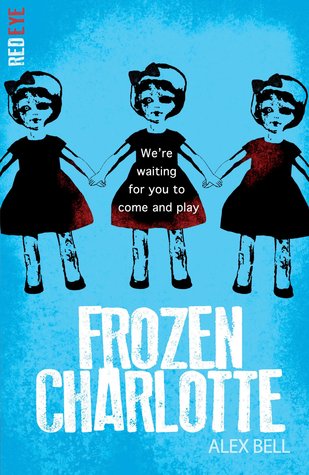 Synopsis: We're waiting for you to come and play. Dunvegan School for Girls has been closed for many years. Converted into a family home, the teachers and students are long gone. But they left something behind...Sophie arrives at the old schoolhouse to spend the summer with her cousins. Brooding Cameron with his scarred hand, strange Lilias with a fear of bones and Piper, who seems just a bit too good to be true. And then there's her other cousin. The girl with a room full of antique dolls. The girl that shouldn't be there. The girl that died.
Oh boy. Doesn't that cover creep you out? Does the synopsis grab you? For the first third of this book, I was utterly enthralled by this book, which explains its urban legend of the horrid Frozen Charlotte dolls expertly and with great clarity.
Sophie is our heroine, and she spends time at an old house along with her cousins. Prior to this, we learn in the first few chapters of Sophie's encounter with a phone-app enabled ouija board, the use of which has some terrible consequences.
Well, of course horrible things happen. Have you ever known a ouija board not fail to deliver? I had one in the house that I grew up in. How it got there, I don't know. I must ask my mum some time about that. If I had to guess, I'd say my Nan put it there!
Anyway, Sophie ends up at the house with her distant family members, and sure enough, things start to happen.
Most chilling for me was Lilias, who had such a fear of bones, she wants to take a knife to her skin so she can cut the skeleton out. If you got that image, perhaps you can understand the power of author Alex Bells writing. It is good - very good!
I'd advise you look up the legend of Frozen Charlotte for yourself. It is in this where the book's power resonates, and any mention of them in the book sent chills up, down and across my spine.
The book perhaps suffers a little in its length, if only a chapter or two shorter I think it may have been just that little bit tighter. I for one would not want to stay in a house where such freaky things are happening - the piano is a case in point - you'll know when you read it!
As always, well written books like this have a great baddie - and in this book, it is not so obvious who it is.
Let me just say, as horrid as they are, the Frozen Charlotte dolls are not the worst thing in the book. It's a human - and what this person does is horrific and unforgettable.
Frozen Charlotte has the right balance of horror and suspense for a YA level story. I enjoyed it immensely, Thoroughly recommended.