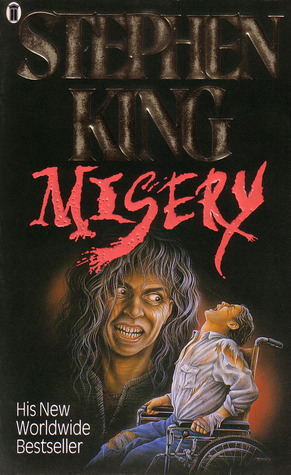 Synopsis:
Paul Sheldon. He's a bestselling novelist who has finally met his biggest fan. Her name is Annie Wilkes and she is more than a rabid reader - she is Paul's nurse, tending his shattered body after an automobile accident. But she is also his captor, keeping him prisoner in her isolated house.
Wow. Only two years since I last read this? I thought it was ten!
Scratch the five stars above. This book deserves SIX. Below is a photo of my actual paperback copy from 1990.
My 2015 Review:-
If you are one of those people who has never read a Stephen King book, whilst it might be tempting to read a short story collection of his, like Graveyard Shift or Everything's Eventual, I would strongly direct you towards Misery.
The book is simply a masterpiece and one of my all time favourite books. Reading it again, and again - reveals something new. This is why some reviewers of books who think they understand a book after one read through....let's give some authors, especially the really great ones like Mr King their due.
You may have to read it more than once. I know - you might say 'oh life is too short and there are so many books to read' - and I will agree with you there.
But to read this book only once does it a disservice.
The brilliance of Misery is in its simplicity. King strips down the book to just two main characters, and the tension never lets up, not for a second.
Paul Sheldon is a writer who has a car accident. He survives the crash, only to be dragged into a nightmare, because rescuer / retired nurse Annie Wilkes is Grade One on the crazy list.
How many she killed, we never really find out....it's just clever of King to drop these little things in the book to think about.
Why hasn't she taken him to hospital? Why doesn't she phone an ambulance? Why does she fly off the handle one moment, only to tell Paul that she *loves* him, the next?
Because she is his Number One fan. She's not too happy, to put it mildly, that her favourite character from Mr Sheldon's books - Misery Chastain, is killed off in the latest (and presumably final) Misery book.
She's even less impressed with his manuscript for his first non-Misery novel in a while. She hates the title, the story, the characters, and the swearing.
Paul, meanwhile, is getting addicted to the painkiller she prescribed him - Novril.
And he learns early on that Annie has no intention of letting him go.
But before all that happens, he would have to bring Misery back from the dead. And he had better do that right, too!
If Stephen King wrote a book to show how appreciative he is of his fans, I think Misery would be that book.
Through Paul Sheldon, he tries to explain things to Annie, things only a writer would know and understand.
She rebels of course, because that's how she's written. She thinks she knows it all. She's been in a position of power and authority before, and wants to exercise on Paul in this story.
The book becomes a battle of wills. Paul has his little victories, like managing to get out of the room that has become his prison.
There's comedy, that from my point as a writer, I understand. Yes - the letter E is essential, and I would be lost without it. In Misery, we get these scenes. They are wonderfully created and executed.
Nearly 370 pages and yet it reads like a dream, even when Paul is writing
Misery's Return
, just for Annie - we get an insight into what that story is actually like.
Some may find that, along with it's typeface (in the print edition) off putting, and distracting from the real story.
It doesn't add, nor take away from it for me. But its inclusion is an interesting one. Say what you like about Stephen King, but he takes risks and it pays off.
Boy, does it.